Watch Video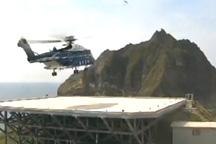 Play Video
Tension between Japan and South Korea is increasing, over a group of islets claimed by both countries. South Korean media reports that two weeks ago, a helicopter from Japan's Maritime Self-Defence Force flew close to the South Korean-controlled islets, called Dokdo in Korea, and Takeshima in Japan.
A Japanese helicopter is said to have flown around the air defence identification zone above the disputed island territory . In response, South Korea scrambled F-15 fighter jets and protested the move. But Japan's defence minister responded that the activity did not pose any issue under international law.
Following an unprecedented visit to the disputed territory in August by South Korean president Lee Myung-bak, the Japanese government announced it had begun preparations to unilaterally take the dispute to the international court of justice.
The move has put further strains on deteriorating bilateral ties between the two countries.
Editor:Zhang Pengfei |Source: CCTV.com