Watch Video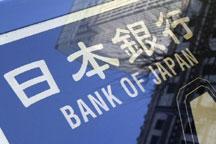 Play Video
The Bank of Japan has left interest rates unchanged at the end of its monthly meeting. And policymakers also resisted government pressure to ease monetary policy for the time being. Mike Firn reports from Tokyo.
Leveling off, more or less – that`s the somewhat vague and less than inspiring assessment of the economy by the Bank of Japan this month. Its leaving policy loose, with interest rates staying within a range of zero to 0.1 percent.
Japan is dealing with slowing demand for its exports and falling prices at home – to put its case for more action to fight deflation the government took the unusual step of sending a cabinet member to the monthly meeting.
Mike Firn, Tokyo, said, "Before heading into Friday`s meeting Japan`s new economy minister Seiji Maehara said the government will continue to push the independent central bank to keep easing monetary policy.
Well board members resisted the pressure this time, leaving the asset buying fund at the equivalent of one trillion dollars."
Two weeks ago the Bank added 12 and a half percent more to the cash it uses to buy stocks, bonds, index trackers and real estate funds. It`s waiting to see if that has any effect before deciding its next move.
Masaaki Kanno, Chief Economist, JP Morgan Japan, said, "The BoJ is expected to increase its asset purchase program probably only by another 10 trillion yen. The question is whether that is enough or not and if the Fed eases again maybe some time in a few months then the BoJ would have to do the same thing. I think what is needed is that the BoJ should change the basic framework of the policy going beyond the current framework of the asset purchase program."
The Bank of Japan has one more chance to ease policy this month. It meets again on October 30th to review its price targets and issue its half-yearly economic report.
Related stories
Editor:Zhang Pengfei |Source: CCTV.com