Watch Video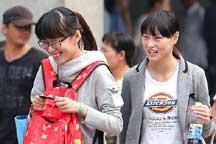 Play Video
Over the next two days, huge numbers of people are expected to return home from their holidays, as the eight-day Golden Week comes to an end.
China's Tourism Academy is predicting that over 363 million people will have hit the road during the holiday. By Friday, 79 million passengers were estimated to have used the railways -- that's up about 8 percent over last year. Waterways have shipped around 2 million, an increase of about 17 percent on last year.
As tourists make the journey back home, some expressways are likely to see daily travel volumes of more than a million cars. With the added incentive of the special "toll-free" period, the number of cars is putting enormous pressure on China's highway network.
The Beijing-HongKong-Macao expressway, the Shanghai-Kunming expressway and the route from Beijing to Kunming have already seen large increases in traffic flows.
Editor:Zhang Pengfei |Source: CCTV.com