Watch Video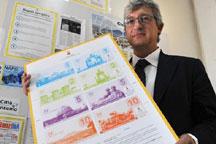 Play Video
In recession-struck Italy, both incomes and consumer spending have fallen. Many retailers have been forced to shut down due to weak demand. How to get people spending again has become a critical problem for local governments. The city of Naples in southern Italy has come up with a novel solution.
It's setting up a 70 million euro system centered around the "Napo" - considered a new local currency, to boost retail revenue. Let's take a closer look.
These banknotes are called Napos, issued by Naples in the south of Italy. They look a lot like any other currency - denominated in 1, 2, 5, and 10 "Napo" notes - but can only be used alongside the euro, as a kind of discount coupon. They will be provided to retailers, tourists and residents who pay their taxes, entitling bearers to a 10 percent discount for every 10 euros spent.
Marco Esposito, Economic Dev't Councilor, Naoles, Italy, said, "Napos can provide a 10-percent discount. If you spend 10 euros, you can pay 9 euros plus a one-euro valued Napo. It means one Napo will attract 9 euros in spending."
The currency is still at a trial stage. Naples plans to issue a total of 70-million-euros worth of Napos at Christmas. With around 30 percent of Neopolitans currently doing their shopping outside the city, it's hope the new scheme will bring some of those euros back to Naples.
Marco Esposito,said, "By issuing Napos, we hope more and more visitors, local residents and other Italians could join the currency circulation, to create more consumption and jobs."
Italy's consumption is forecast to shrink about 3 percent in this year, and nearly 150 thousand stores are facing the risk of bankruptcy. Officials in Naples say they will take more measures to help retailers avert having to shut down.
Editor:Zhang Pengfei |Source: CCTV.com