Watch Video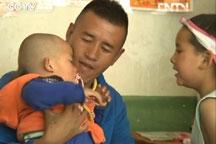 Play Video
By CCTV reporter He Beibei
In the suburbs of Lhasa, Tibet, there is a special big family. 83 children are living there and they have a common father. They live and grow up together happily surrounded by love.
Let's join our reporter He Beibei to learn more about this special place, the Choudon Orphanage.
The children affectionately call him Daddy Nyima. He is the founder of the orphanage. 14 years ago he was overcome with grief after the death of his mother and decided to open an orphanage so that kids like him would have a better life.
In 1999 he set up the orphanage, and named it Choudon – in memory of his mother. In the Tibetan language, "Nyima" means the sun, and Daddy Nyima brings the sun for the children.
Today, the Choudon Orphanage is home for 83 children. The youngest is only 3 years old, and the oldest 19. But it's not easy to support such a big family.
Donations from the community are the main source of income for the orphanage. Thanks to all the good-hearted people, children can live a normal life and receive formal education like other children.
During our stay here, we witnessed a number of acts of profound kindness.
Shen Gang, Tourist from Shanghai, said, "To make our trip more meaningful, we gathered about 5000 yuan and bought these stationeries. My mother passed away years ago, so when I learned about their story, I don't know how to express my emotion. We will be here next time and call for more people to join us to do something for the children."
The Children study very hard and always get good scores. The wall is filled with their certifications of awards.
Nyima, Founder of the Orphanage, said, "I often attend parents days at school and I love to hear the children being praised by their teachers."
In the activity room, a short distance from the world-famous Potala Palace, kids can spend time reading and painting after school. Their life is also very colorful. In this orphanage, there are children of great artistic talent. One who became skillful at Thangka traditional art gave Nyima a painting as a special leaving gift. Nyima treasures it greatly – so much so he's not willing to hang it.
While teaching them knowledge, Nyima also teaches them practical life skills, and fosters their courage and spirit.
They may all share stories of tragedy, but in this little world, they find their own happiness. And hopefully the efforts here will help them discover an even brighter future.
After 14 years of ups and downs with the orphans, Nyima said he was very happy and very grateful for the love from the community. Nearly 40 have grown-up and left the orphanage to work. Many often come back to visit, and their hearts are with Daddy Nyima forever.
Nyima, said, "I founded the orphanage but it does not belong to me. It belongs to the Tibetan orphans in the future. I always tell them two things: one is they need to work hard and to be a better man so that they can repay the good-hearted people and repay the nation; the other is if something bad happens to me, older children need to take charge of the orphanage and keep it on. That's my biggest wish. "
Editor:Zhang Pengfei |Source: