Watch Video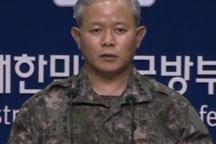 Play Video
South Korea's Joint Chiefs of Staff has said that a soldier from the Democratic People's Republic of Korea killed two of his officers before crossing the heavily mined border into South Korea on Saturday.
Colonel Lee Bung-Woo, Spokesman of Joint Chiefs of Staff, said, "A DPRK soldier has defected to our guard post in an inter-korean management zone at 12:10pm, October 6. Our army has raised its military alert in the area, but there has been no extraordinary moves by the DPRK army so far."
The soldier shot his platoon and company commanders before crossing the Demilitarized Zone. The soldier was taken into custody by South Korean border guards. Such incidents are rare as the 250 km-long land border is heavily armed and tightly guarded.
Last year, a DPRK civilian defected to South Korea across the land border. The last known defection across the border by a DPRK soldier occurred in October 2008.
Related stories
Editor:Bai Yang |Source: CCTV.com