Watch Video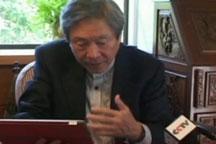 Play Video
By CCTV reporter Li Ying
A prominent Japanese scholar has said the Japanese government should correct its attitude over the Diaoyu Islands and return to negotiations with China. He said it is because historical documents show China's sovereignty over the territory.
Yabuki Susumu, a Japanese China scholar, said late Chinese and Japanese leaders had previously reached agreement on the issue.
Yabuki Susumu, Professor Emeritus, Yokohama City University, said, "Late Chinese Premier Zhou Enlai said: If we are to discuss the Diaoyu Islands, we shall find it difficult to continue the negotiations because both sides will have too many things to talk about; so it is preferable to shelve this issue for the time being. And late Japanese Prime Minister Tanaka Kakuei agreed and said: let's wait for other opportunities to discuss the issue."
But he said this dialogue cannot be found now in the files of the Japanese Ministry of Foreign Affairs, because somebody has deliberately deleted it.
Yabuki Susumu also criticized the Japanese government for its current remarks over the islands, saying the two countries can return to the negotiating table only when the Japanese government has corrected its attitude.
Yabuki Susumu also said, "The Japanese side should first recognize that there is a dispute over the Diaoyu Islands, and then begin peaceful negotiations with China on this basis. They can carry out joint development or continue to shelve the issue."
Yabuki Susumu said it was in the Meiji Period between 1868 and 1911 the Japanese side first mentioned the Diaoyu Islands, much later than China's discovery of the islands in the Ming Dynasty from 1386 to 1644.
He said Japan has no historical records on the Diaoyu Islands before the Meiji Period.
He added Japan had plotted to occupy the Diaoyu Islands in 1885, but it delayed its plan to avoid possible protest from China's Qing government. The Japanese only seized the islands in 1895 after the Qing government had been defeated in the first Sino-Japanese war.
Editor:Bai Yang |Source: CCTV.com