Watch Video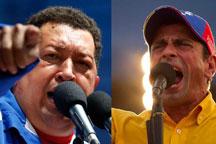 Play Video
Venezuelans are voting in a presidential race pitting President Hugo Chavez against opposition governor Henrique Capriles. Venezuela's Minister of Interior and Justice, Tareck el Aissami, encouraged voters to turn out.
Tareck El Aissami, Minister of Interior and Justice, said, "(Everyone) should exercise this right and more than a right, it is an act of conscience, a patriotic act. Go out and vote so we can look at our children and tell them that we are going to leave them a sovereign country, a free country, a big country. A beautiful country."
Venezuelans began voting with President Hugo Chavez facing in his biggest electoral challenge yet from a young rival. Henrique Capriles, a centrist state governor, has narrowed the gap with Chavez in final polls thanks to a vigourous campaign, giving the opposition its best chance of ending Chavez's 14-year rule.
Earlier, across poor neighborhoods where Chavez draws his most fervent following, loyalists blew trumpets and set off fireworks in a predawn wake-up call for voters. Most polls put Chavez in front. But two have Capriles just ahead, and his support has crept up in others.
Related stories
Editor:Bai Yang |Source: CCTV.com