Watch Video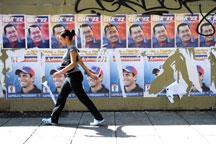 Play Video
By CCTV correspondent Michael Voss
One of the countries waiting anxiously to see the outcome of the Venezuelan elections is Cuba. Venezuelan President Hugo Chavez has long considered Fidel Castro his political mentor and is using part of Venezuela's vast oil wealth to help bankroll the Cuban revolution.
Venezuela supplies almost half of Cuba's annual energy needs 100,000 barrels of oil a day in return for some 40,000 Cubans, mainly medical personnel, working in Venezuela.
When President Chavez was diagnosed with cancer on a visit to Havana last year, it was a stark reminder of just how dependent Cuba has become on this special relationship.
Now many here wonder what the Venezuelan election might bring-with the opposition candidate, Henrique Capriles, saying that he would renegotiate the oil-for-doctors deal.
A Cuban resident said, "Put together our internal problems, the elections in Venezuela and the U.S. elections. It's a 'domino effect,' if anything goes wrong with any of them Cuba will suffer."
Another Cuban resident said, "When someone falls down they have to get up. When the Soviet and socialist camp fell, Cuba got by well more or less."
The loss of subsidized oil would be a severe blow to Cuba's struggling economy but unlike the collapse of its former benefactor, the Soviet Union, the Cuban authorities believe that they are in a better position to survive such a blow.
Since taking over the presidency, Raul Castro has made a point of developing stronger commercial ties with other countries including China, Brazil and Russia.
Raphael Hernandez, Magazine Editor, said, "I think that the policy is that we must not repeat the mistakes we made with the Soviet Union, because to have one single ally, one single partner, is not safe in terms of national security"
Cuba invited foreign oil companies to explore for offshore oil in the hope of becoming energy sufficient, but none of the wells sunk so far have proved viable.
Related stories
Editor:Bai Yang |Source: CCTV.com