Watch Video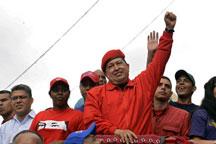 Play Video
Venezuela's incumbent president, Hugo Chavez has voted in the country's presidential election. His latest challenger is opposition governor Henrique Capriles.
Chavez has promoted a policy he calls "21st century socialism" which pursues greater state control of the economy. His supporters say Capriles would undo the ruling party's intervention on behalf of the poor.
The election is a one-round, first-past-the post system. There are six candidates, but only Chavez and Capriles have any real chance of winning.
Editor:Bai Yang |Source: CCTV.com