Watch Video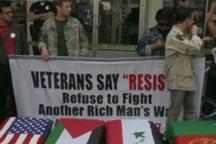 Play Video
In 2001, US-led coalition forces invaded Afghanistan and toppled the Taliban regime. 11 years later, the security situation in the country shows no signs of improvement.
In the United States, demonstrations took place in a number of major cities to mark the anniversary of the Afghan War. Demonstrators called on the government not to wage war against other countries like Iran and Syria.
Tens of thousands of Afghans have been killed since the US invasion 11 years ago and the Taliban is nowhere near defeated. In the first six months of this year, over 1,400 Afghan civilians were killed. 80 percent of those deaths have been blamed on the Taliban. The war has cost the United States billions of dollars. And more than 3,000 coalition forces, including 2,100 US military personnel have died.
Editor:Zhang Jingya |Source: CCTV.com