Watch Video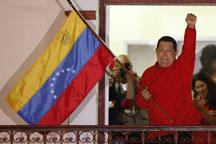 Play Video
Incumbent Venezuelan President Hugo Chavez has won Sunday's presidential election with 54.42 percent of the vote. His rival opposition leader Henrique Capriles won 44.47 percent.
Celebrations were held by Chavez supporters, with massive fireworks fired into the sky. Chavez, who has been in power since February 1999, will serve a fourth term starting from January 2013. Chavez spent heavily in the months before the vote, building public housing and bankrolling expanded social programs.
Chavez called his re-election "the people's victory" in a late-night speech delivered from the balcony of the presidential palace. He also thanked the more than six million Venezuelans who placed their trust in him.
Hugo Chavez said, ""This is a step forward, a very important step forward in building peace and confidence for all of us. It's for that I send this greeting and extend both my hands and heart, because we are brothers in this homeland. For those who are spreading social poison, to those who are denying all the good things that happened in Venezuela, I invite them to join the dialogue and debate."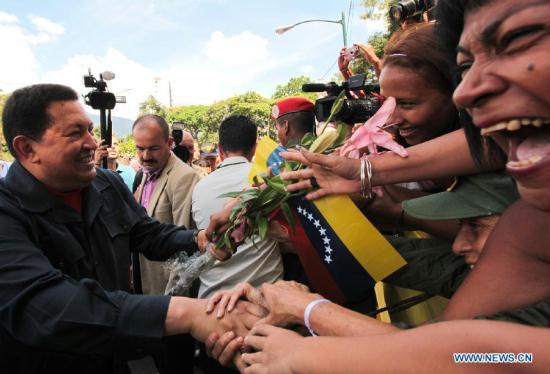 Image provided by Presidency of Venezuela shows incumbent Venezuelan President Hugo
Chavez (L) shaking hands with his supporters during the presidential election in
Caracas, capital of Venezuela, Oct. 7, 2012. Hugo Chavez has won the presidential
election with 54.42 percent of the vote, Tibisay Lucena Ramirez, president of the
National Electoral Council (CNE) announced late Sunday. (Xinhua/Presidency of
Venezuela)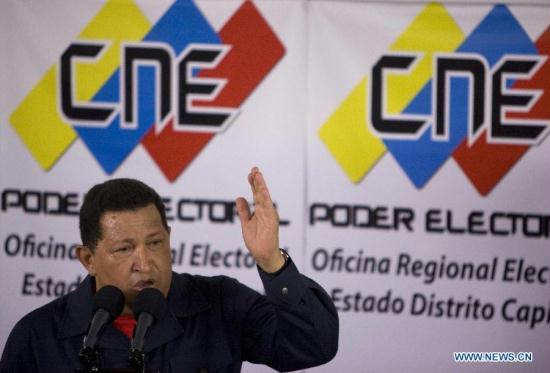 Incumbent Venezuelan President Hugo Chavez participates in a press conference during
the presidential election in Caracas, capital of Venezuela, Oct. 7, 2012. Hugo Chavez
has won the presidential election with 54.42 percent of the vote, Tibisay Lucena
Ramirez, president of the National Electoral Council (CNE) announced late Sunday.
(Xinhua)
Editor:Wang Xiaomei |Source: CCTV.com