Watch Video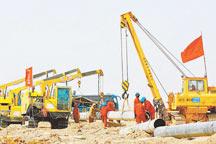 Play Video
By CCTV reporter Yin Hang
Construction of the third phase of China's west to east natural gas pipeline has begun. The pipeline starts from Khorgos Port in Xinjiang Uygur Autonomous Region, to the eastern city of Fuzhou in Fujian Province. It's part of China's plan to cut its carbon footprint.
The pipeline is the major backbone of the national energy network costing around 125 billion yuan.
It will carry around 30 billion cubic meters of gas from Central Asian countries, a year when it goes into operation in 2015. By then, the three West-East pipelines together with Shanxi-Beijing No.1, No.2 pipelines and Sichuan-east Gas pipeline will form a comprehensive network providing gas to China's eastern regions.
Yin Hang said, "The No.3 West-East Natural Gas Transmission Pipeline is the largest in China that opened for social capital. It stretches over 7,000 kilometres, passing through 10 provinces and autonomous regions."
According to Liao Yongyuan, Vice President of PetroChina, just under half the cost is being financed privately.
He also says the construction of the pipeline marks a vital cornerstone in reducing China's excess capacity.
Liao Yongyuan, vice president of PetroChina, said, "Through intergrating natural gas resources from three central Asian countries and China's own, this pipeline uses materials we've designed ourselves, with better efficiency. And with the help of some important technical breakthroughs, we expect the pipeline will reduce China's excess capacity."
Liao also says PetroChina is planning to start building another two pipelines linking China's west and east regions in five years.
The West-East natural gas pipeline is the nation's largest energy and infrastructure project by investment value in the past 10 years, with a combined cost of 290 billion yuan, or 46 billion US dollars, for its first two phases. The first two phases span a combined 15,000 kilometers, making it the world's longest pipeline, and benefiting a population of 400 million.
PetroChina began building the first phase in 2002, completing it in 2004, while construction of the second phase began in 2009 and will reach Hong Kong by the end of this year.
PetroChina expects by using natural gas supplied by the three pipelines, China can eliminate around 130 million tons of carbon dioxide emissions annually.
Related stories
Editor:Wang Xiaomei |Source: CCTV.com