Watch Video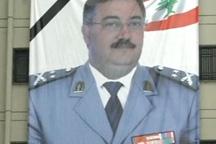 Play Video
Brigadier General Wissam al-Hassan may have been targeted because he helped uncover a bomb plot, that led to the arrest and indictment of a pro-Damascus former Lebanese minister.
He also led an investigation that implicated Syria and its Lebanese ally Hezbollah, in the assassination of former Lebanese prime minister Rafik al-Hariri in 2005. Al-Hassan was buried at Martyrs' Square, alongside Hariri.
Lebanese President Michel Suleiman says the government and the people must work "shoulder to shoulder" and that investigations and law enforcement must continue.
Michel Suleiman, Lebanese President, said, "I call on politicians, the government and the political authorities not to cover up the actions of criminals. Let the police and judges feel safe, and criminals feel unprotected. This is our duty and the duty of all political leaders."
Editor:Zhang Dan |Source: CCTV.com