Watch Video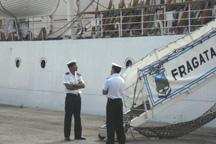 Play Video
At least 300 crew members are still aboard a seized Argentine ship in Ghana, despite the president of the South American country ordering the sailors to evacuate the vessel.
The Libertad, a Navy training frigate, was detained in the Ghanaian port of Tema on October 2nd. It's been seized by Ghana in an effort to help bondholders recoup debts from the South American country's 2002 default. The court order was obtained by NML Capital Ltd, an affiliate of investment firm Elliott Management.
The firm says Argentina owes it over $300 million dollars on defaulted sovereign bonds and will only release the ship if the country pays it at least $20 million dollars. Argentina has condemned the seizure of the ship, saying it cannot be targeted by creditors due to its military nature. A Ghanaian court ruled that Argentina forfeited such immunities when it issued the bonds.
Related stories
Editor:Zhang Dan |Source: CCTV.com