Watch Video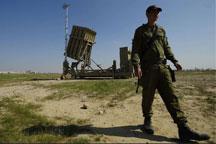 Play Video
Israel and the US have begun their largest ever military exercise, "Austere Challenge 2012" off the coast of Israel. The joint exercise is to help the two countries to work together against a range of threats facing Israel, America's main ally in the Middle East.
This is the Bay of Haifa, one of Israel's most important ports. The US navy's Aegis Missile destroyer is one of the vessels taking part in an air defense drill, together with more than 3,000 Americans and 1,000 Israelis. The week-long exercise will test Israeli and American air defense systems against incoming missiles and rockets from locations as far away as Iran.
Alon Ben-David, Israeli Military Commentator, said, "The current scenario of AC twelve is everything. That's the scenario that's going to exercise."
The exercise, which took more than two years to plan, was originally scheduled for April. But it was postponed for technical reasons.
Most of the exercise will involve computer simulations of incoming rockets.. Live ammunition is expected to be used towards the end, with both sides launching Patriot missiles to intercept an "attack" on Israel. The exercise is set to cost the US about 30 million US dollars and Israel some 8 million US dollars.
Uzi Eilam, senior research fellow, Inst. for National Security Studies, said, "It's a down to earth economical problems and the proof is happening today."
The Israeli military says this largest ever exercise is a sign of the intense cooperation between the US and Israel.
Editor:Wang Chuhan |Source: CCTV.com