Watch Video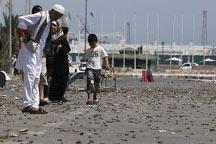 Play Video
By CCTV reporter Meng Qingsheng
Former Libyan leader Muammar Gaddafi's former base compound was razed to the ground following his death a year ago. But the former Al-Aziziya Compound, in the center of Tripoli, is now home to many war-torn residents, struggling to make a living.
Al-Aziziya Compound, the base camp of Libya's former leader Muammar Gaddafi. Gaddafi lived, worked and commanded his military here. Libya's National Transitional Committee proposed this July to rebuild the four hectare site into a new parliament building.
However, the proposal received immediate opposition. The site, which was then deserted, has now become a rubbish site. Inside, there are still people living, like Al Hattie and his wife. The couple used to live in Misrata.
But last year, after the war broke out, they fled their hometown and for Tripoli.Al Hattie has a part-time job at a local hospital. However, the limited salary is far from paying the city's rents. And Al-Aziziya Compound is the only place they think they can survive.
Al Hattie said, "I rented a house in the past. But, because my income is very low, the rent is very expensive. So I chose this place to live. It's free."
Debris lies everywhere. However, the couple have managed to make the place liveable. They even plant vegetables, and Al Hattie makes a living as a waste recycler. There are more than two hundred families living in the Al-Aziziya Compound. But it's still hard for them to live a normal life.
Related stories
Editor:Wang Xiaomei |Source: CCTV.com