Watch Video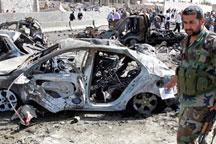 Play Video
A car bomb exploded near a police station in central Damascus Sunday, killing at least 13 people and injuring 29 others. The bomb went off as an international peace envoy met with President Bashar al-Assad to push for a temporary ceasefire.
This is the aftermath of a car bomb blast in Bab Touma, a predominantly Christian neighbourhood in Damascus' Old City.
A witness said, "We were working here when suddenly an explosion was heard and the whole shop shook."
The Syrian Interior Ministry calls the attack an act of terror, adding that another blast had struck the city of Aleppo on the same day. There was no immediate claim of responsibility, but an Islamist group linked to al-Qaeda, who has claimed responsibility for prior attacks against Syrian security forces, is believed to be the prime suspect.
The explosion took place as the United Nations-Arab League envoy to Syria, Lakhdar Brahimi, was discussing a temporary ceasefire with President Bashar Assad in Damascus.
The envoy is appealing for a truce between Assad's forces and rebels for the four-day Muslim holiday of Eid al-Adha, which begins on October 26.
Lakhdar Brahimi, UN-Arab League envoy to Syria, said, "We got in contact with some of the leaders of the opposition outside Syria, and with those from the peaceful and armed opposition inside Syria. They all responded positively. All those we have met - opposition leaders from both outside and inside Syria, and officials from neighboring countries - all said that truce during Eid al-Adha was a good idea and that they supported it."
Hopeful words to be sure, but despite this there remain few concrete signals that violence and bloodshed will stop any time soon. It seems the country's now 19 month ordeal will go on for now.
Editor:Wang Chuhan |Source: CCTV.com