Watch Video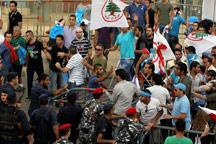 Play Video
Tensions have risen across Lebanon following the assassination of the country's intelligence chief, Wissam al-Hassan, in a car bomb on Friday.
Soldiers used barbed wire and roadblocks to prevent anti-Syrian protesters from approaching the Lebanese Prime Minister Najib Mikati's office. Dozens of protesters erected tents in central Beirut, saying they would not leave until Mikati's government resigns.
Earlier, one person was killed during clashes in the northern Lebanese city of Tripoli between opponents and supporters of Syrian President Bashar Assad. The Lebanese intelligence chief was a powerful critic of the Syrian government.
He may have been targeted because of his role in uncovering a bomb plot, that led to the arrest and indictment of a pro-Damascus former Lebanese minister.
Editor:Zhang Jianfeng |Source: CCTV.com