Watch Video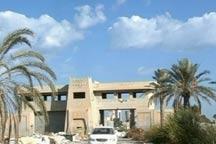 Play Video
Libya is marking the first anniversary of its transitional authority's declaration of national liberation after the downfall of Muammar Gaddafi.
One year on, the compound Bab al-Azizya in which Gaddafi once lived is now home to a number of Libyan families, who lost their homes in the fighting. As they do not officially own the buildings, many are demanding that the state recognize their rights and help them to clean up the area.
Mahammed Al-Mabrook, Bab Al-Azizya resident, said, "As you can see, the restored buildings are better than those in the neighbouring areas to Bab al-Azizya, so we ask the government to enable us to make formal procedures and to provide us with services. This is just what we are asking."
The area has been renamed Liberation District. Many residents have repaired the damaged buildings, installing new doors and windows. The sprawling complex in central Tripoli previously boasted trappings of wealth well beyond the means of ordinary Libyans.
But the defining symbol of Gaddafi's long rule was heavily damaged by NATO airstrikes. And large areas of the compound are now filled with destroyed buildings and other debris from the fighting.
Editor:Zhang Dan |Source: CCTV.com