Watch Video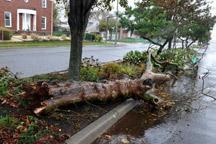 Play Video
Sandy has weakened to a tropical storm after it made landfall along the coast of the US's northeastern New Jersey state. However, US meteorology authorities have warned that it's still dangerous.
The storm has so far claimed lives of 14 people in the US. And power supply has been knocked out for around 2 million people. Public transportation has been interrupted in multiple cities, including major metropolises like Washington, New York and Philadelphia, all of which President Barack Obama has declared are in a state of emergency.
About 9,000 flights have been cancelled or delayed over the past three days on the country's east coast, and that number is likely to rise. The federal government, as well as local authorities have said they will take measures to assist in any future emergencies.
Editor:Zhang Jianfeng |Source: CCTV.com