Watch Video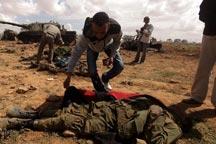 Play Video
By CCTV reporter Maria Galang
It's been over a year since the ousting of the late Libyan leader Muammar Gaddafi. The country has managed to assemble a new government and is now striving to rebuild the country. However, in the city of Benghazi, which was a rebel stronghold, provision of sanitation services remains a serious challenge. And as our correspondent Maria Galang reports, the piles of rubbish seem to get bigger by the day.
If one walks through the streets of Benghazi and asks residents what major changes have taken place around the city since the toppling of Muammar Gaddafi, their answer would include the change of the National flag, the new National Anthem, and the increase of garbage strewn throughout the city. Trash that no one seems to be clearing.
"In Benghazi, nobody sweep the streets, the city is too dirty."
Many say, this situation would not be happening if the uprising hadn't taken place.
"Before the revolution, it's better than now. Because at that time the government has a system to clean the street."
The reconstruction of Libya has been gradual and orderly so far, but garbage collection has been left mostly unattended. Residents say that sweeping the streets has proven more difficult than building a new government. Since the uprising last year, a large proportion of blue collar workers have disappeared, leaving a gap in Libya's labor force. Majority of these workers came from Sub-Saharan countries, and left during the conflict. They have since not yet returned to Libya. Their security cannot be guaranteed, because they are no longer welcomed. A large number of African immigrants are said to have joined Gaddafi's army during the unrest, and many Libyans consider them as the former strongman's accomplices. Such resentment of African immigrants lead to sanitation companies having to hire workers from countries as far away as Bangladesh.
The lack of African labourers has created a massive gap in the work force, and even with the increase of Bangladeshi workers, majority of companies remain severely understaffed. So for now, the garbage it seems, will continue to pile up.
Related stories
Editor:Qin Xue |Source: CCTV.com