Watch Video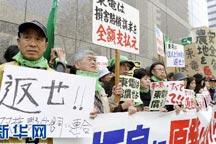 Play Video
Japan is still overshadowed by the Fukushima nuclear accident that happened more than 18 months ago.
The earthquake and tsunami destroyed power and crucial cooling systems at the plant, sending three reactors into meltdowns and releasing massive amounts of radiation. And now a contract worker is making an accusation against TEPCO and its primary subcontractor. He says they sent them into the plant but never warned them even though highly radioactive water leaks had been found elsewhere at the plant.
Shinichi, contract worker who has filed a complaint against TEPCO said," From the outset, there was no mention about water nor any instructions as such. We were not given any information. All we were told was our work, to connect the switchboards."
"I was dumped. Even by my company. I worked hard, sacrificed my family and my child and this is how I ended up. All that's left is pain."
The contract worker, has filed a complaint with a labor standards office in Tokyo. It asks authorities to confirm TEPCO's safety violations and issue improvement orders.
Editor:Qin Xue |Source: CCTV.com