Watch Video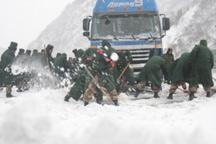 Play Video
More than 100 vehicles have been trapped more than 24 hours on a highway connecting Beijing and the northwest city of Yinchuan due to snow.
Witness said the cars had only moved 10 kilometers forward over the course of 10 hours. The vehicles were stopped on the road 30 kilometers away form Yanqing County in Beijing.
Some even broke down due to the cold. The traffic control department sent the drivers water and bread in the early morning. Some drivers said they worried the long wait would ruin perishable goods they were carrying.
Others took a lighter attitude, building snowmen to pass the time. Meanwhile, the expressway connecting Beijing and Tibet,closed on Saturday night due to over 12 centimeters of snow on the surface.
Editor:Zhang Jianfeng |Source: CCTV.com