Watch Video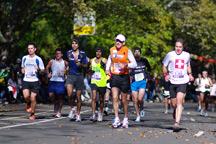 Play Video
Disappointed New York City marathon runners have refused to give up racing. They have set up a makeshift event in the city's Central Park to raise money for their charities and Hurricane Sandy victims.
On Friday New York Mayor Michael Bloomberg cancelled Sunday's marathon. He had come under criticism from victims of the storm who said the race would divert resources from efforts to help flood-ravaged parts of the city. But that has not stopped some runners from doing what they came to do.
Ben Booker, NYC marathon runner, says, "I think we were all disappointed. We came here to run, and you know, we weren't going to let the storm stop us. We came out and I think despite what's happened we're all kind of showing our spirit and.
It's a really good showing here. It's beautiful what's happening. A lot of people gave their money, gave their support and at the same time we can still show our spirit for what we all love which is running which is good."
Editor:Zhang Jianfeng |Source: CCTV.com