Watch Video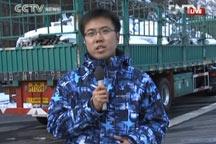 Play Video
Beijing's northern Yanqing County has been hit hard by a snowstorm. Snow and ice have blocked the only highway that connects the district to downtown. Thousands of drivers and passengers were stranded for long hours throughout the night in freezing conditions.
For more on the snowstorm, we are now joined by our CCTV reporter Han Peng.
Q1: Hello, Han Peng, Some highways have been blocked or even closed because of the snowstorm, can you update us on the traffic situation there?
Q2: There are over 700 trucks trapped along the Beijing- Tibet Expressway. How about the drivers, are they still trapped and being taken care of?
Editor:Wang Xiaomei |Source: CCTV.com