Watch Video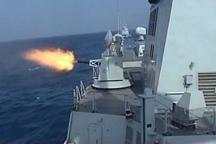 Play Video
The Chinese Navy's South China Sea Fleet has held a landing drill in waters of the South China Sea. The drill involved a formation of destroyers, frigates, landing ships and submarines. The formation first practised using electromagnetic interference equipment.
Meanwhile, a missile was launched to practice defending against incoming aircraft and missiles. Artillery on board ships then fired at fixed targets on shore.
As the drill continued, damage to ships and casualties were simulated.
Under cover of the fleet formation, amphibious armored vehicles, and hovercrafts launched the last wave of attacks on enemy targets, and reclaimed islands occupied by enemy forces.
Related stories
Editor:Zhou Minxi |Source: CCTV.com