Watch Video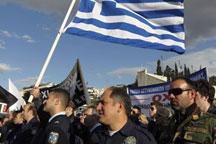 Play Video
Greek subway and taxi drivers are on a nationwide strike. These transport workers are protesting an upcoming vote in the country's parliament seeking to introduce new austerity measures.
Unions have called for a wave of strikes this week, including a general strike on Tuesday and Wednesday. Transportation has been hit hard in Athens, and hospitals, ports and other services will also be severely curtailed.
Greece's coalition government is facing two crucial votes this week on austerity measures, labor reforms and 2013 budget in its effort to secure a portion of a bailout loan by creditors. The plan is also believed to help the country head off the threat of bankruptcy. The new package includes 13.5 billion euros in spending cuts and tax increases over two years. Greece is heading for a sixth year of recession. Unemployment is currently around 25 percent, the highest in decades.
Editor:Bai Yang |Source: CCTV.com