Watch Video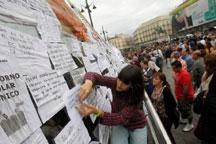 Play Video
In Spain, there are now more than 4.8 million people looking for a job that according to the Spanish Labor Ministry.
The number of registered jobless in Spain jumped by 2.73 percent in October on a monthly basis. This is one of the highest levels in Europe.
As the fourth-biggest eurozone economy, Spain finds itself struggling to reduce its excessive public debt and deficit. It has implemented harsh austerity measures, but those tend to hamper quick rebounds in economic activity. On an annualized basis, the number of jobseekers has climbed by 10.84 percent.
Editor:Bai Yang |Source: CCTV.com