Watch Video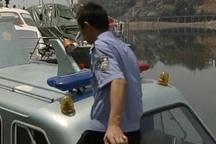 Play Video
Some years ago, a Chinese police boat narrowly survived an attack on the Mekong River. And now the policemen on board suspect it was the work of the Naw Kham gang.
The boat was heading down the MeKong river for a joint mission with Cambodia, Myanmar and Thailand. The six Chinese police officers onboard did not know danger was hiding just in front of them.
As the boat started to decelerate, a gunshot was heard, followed by a siren on the boat breaking into pieces.
They immediately realized they were being attacked by highly lethal weapons.
Just two minutes into the attack, as the shooting intensified, one policeman was injured.
The captain then ran to the left ship rail, carrying a wooden plank to ward off the bullets.
The captain ventured back to the steering room, speeding up the boat to advance.
The boat finally got away from the siege. But three policemen had been wounded.
Several years on, as Naw Kham was seized, the 6 policemen have started to realize that his gang might be behind the attacks.
Editor:Zhang Rui |Source: CCTV.com