Watch Video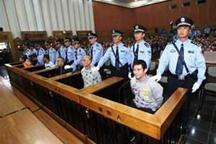 Play Video
Verdicts for the six men accused in the Mekong River murder case have been annouced by the Intermediate People's Court of Kunming in the capital of southwest China's Yunnan Province. Naw Kham, head of an armed drug gang from Myanmar, has been given the death penalty.
Meanwhile, four members of his gang have been sentenced to death or death with reprieve. One was given an 8 year jail sentence. They were sentenced for the October 2011 murder of 13 Chinese sailors in the Thai waters of the Mekong River in the Golden Triangle Region.
All six suspects were charged with intentional homicide, drug trafficking, kidnapping and hijacking. But all six defendants say they will appeal to a higher court.
The Naw Kham crime ring was busted earlier this year in a joint operation by police from China, Laos, Myanmar and Thailand after the brutal murders triggered an outcry in China.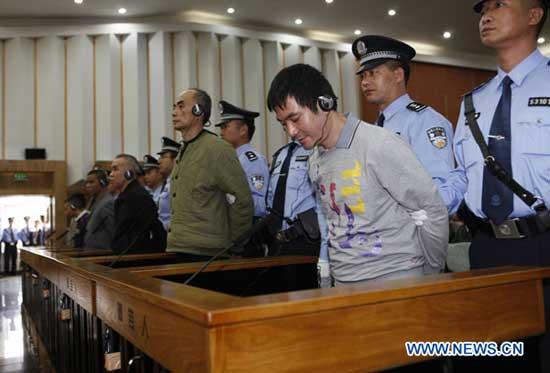 Naw Kham (1st R, front), principal suspect accused in the Mekong River murder case, and five
accomplices hear their verdicts at court in Kunming, capital of southwest China's Yunnan
Province, Nov. 6, 2012. Naw Kham was sentenced to death on Nov. 6. The 13 Chinese sailors were
murdered after two cargo ships, the Hua Ping and Yu Xing 8, were hijacked on Oct. 5, 2011 on
the Mekong River, an important waterway in Southeast Asia. (Xinhua/Wang Shen)
Backgrounder: The life of Naw Kham
Naw Kham was the leader of a large-scale armed drug trafficking group. Now let's find out more about him, and how he is connected with the Mekong tragedy.Full story >>
Backgrounder: Chinese policeman recalls attacks by Naw Kham

Some years ago, a Chinese police boat narrowly survived an attack on the Mekong River. And now the policemen on board suspect it was the work of the Naw Kham gang. Full story >>

Achievements of Mekong river joint patrol

The capture of infamous Myanmar drug trafficker Naw Kham marked one of the most distinguished achievements since the four nations along the Mekong River started joint patrols last October. Full story >>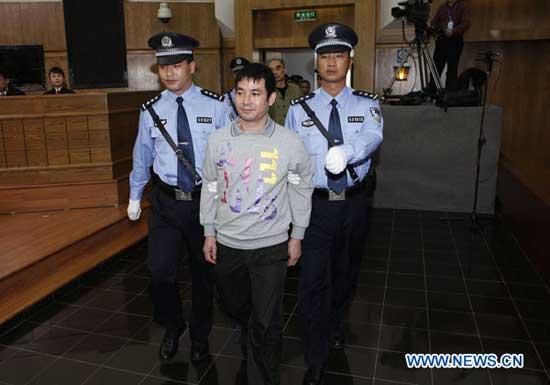 Naw Kham (1st R, front), principal suspect accused in the Mekong River murder case, and five
accomplices hear their verdicts at court in Kunming, capital of southwest China's Yunnan
Province, Nov. 6, 2012. Naw Kham was sentenced to death on Nov. 6. The 13 Chinese sailors were
murdered after two cargo ships, the Hua Ping and Yu Xing 8, were hijacked on Oct. 5, 2011 on
the Mekong River, an important waterway in Southeast Asia. (Xinhua/Wang Shen)
Editor:Zhou Minxi |Source: CCTV.com