Watch Video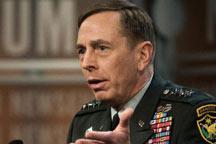 Play Video
CIA Director David Petraeus has resigned, saying he had engaged in an extramarital affair. US President Barack Obama accepted the resignation on Friday. Michael Morell, the agency's long-time deputy director, will serve as acting CIA chief.
The affair was first uncovered a few months ago during an investigation by the FBI. A US national security source said the FBI had stumbled across evidence of Petraeus' affair during an apparently unrelated investigation of news leaks.
The Wall Street Journal identified the woman as Paula Broadwell, who wrote a biography of Petraeus. But CNN says Broadwell has not yet been confirmed as the woman involved in the extramarital affair. David Petreaus was the top US commander in Iraq and Afghanistan before becoming CIA director in 2011.
Editor:Bai Yang |Source: CCTV.com