Watch Video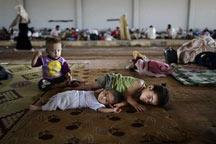 Play Video
By CCTV reporter Yang Weihan
For the several thousand displaced people camped on the Syrian border with Turkey, autumn rain on Saturday brought more misery to their lives.
The people living in improvised tents by the Syrian border village of Atmeh were dreading the rain which comes at this time of year. After overnight rain, the camp spreading over two hills next to the Turkish border outpost was a sea of mud on Saturday.
Some of those who have fled the violence in Syrian flash points tried to cover their shoes with plastic. Most just gave up and struggled their way barefooted through an ankle deep layer of water and mud. They are just lacking in food, but also tents and medicine.
Hasan Abrash, Syrian Refugee, said, "It can't be worse than this here. There is no water, no proper food. It can't be worse. We are making bread just to have something to eat."
The Syrian refugees say they hope their misery will end as soon as possible, and the newly elected leader of the Syrian National Council, George Sabra, can unite the opposition.
Abdulrahman Mostafa, Syrian Refugee, said, "What we wish from George Sabra, is for him to do better deeds. He should learn from the mistakes of previous leaders. The gap between the Syrian National Council and the people should be closed."
Thousands of Syrians have been crossing their borders into neighboring Turkey, Jordan, Lebanon and Iraq to escape the violence since the uprising began.
On Friday, as many as 11-thousand people were said to have fled Syria over just 24 hours, to escape fierce fighting between rebels and government forces. About 2,000 to 3,000 people are fleeing Syria daily on average, bringing the number to more than 408,000.
Editor:Bai Yang |Source: CCTV.com