Watch Video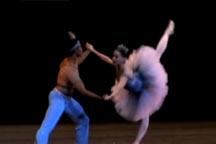 Play Video
By CCTV correspondent Michael Voss
A leading Cuban ballet dancer, who left the island almost 15 years ago to find fame and fortune abroad, has announced plans to return home to convert a ruined ballet school into a multi-million dollar international dance center.
Carlos Acosta's life is a classic tale of rags to riches. Born into a poor afro Cuban family, his passion for dance saw him rise through Cuba's national ballet before becoming a star at the Royal ballet in London. Now with retirement just a few years away, Carlos Acosta has set his sights on something new. He has enlisted the support of the British architect Norman Foster with plans to raise 10 million dollars to transform a deserted ruined arts complex in Havana into a world class dance and cultural center.
Carlos Acosta said, "I see myself being here, creating a scheme that will give artists all over the world the incentive to arrive here, for Cuba to be known for its art, an artistic destination as such. This is something that really motivates me - something beautiful, a project which can unify people."
The complex has never been used apart from the main theater which was briefly turned into a circus school before being abandoned.
This was meant to be Cuba's National Arts Centre, a daring piece of modern architecture commissioned by Fidel Castro back in 1961. But a few years later the project was abandoned and today just the shell remains.
Even in its current state this brick and terracotta tiled structure is spectacular, with its great open domes covering a rabbit warren of corridors and halls.
He has the support of the Cuban Ministry of Culture but not everyone is happy with the idea. The original Italian architect is still alive and doesn't want his designs altered. There is also unease at the idea of a privately funded center in a land where the arts are traditionally run by the state. Carlos Acosta says that he will take the project elsewhere if necessary. But his dream is to give something back to the land of his birth.
Editor:Zhou Minxi |Source: CCTV.com