Watch Video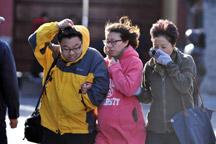 Play Video
Cold weather continues in northern and eastern China, with accumulated snow reaching 22 centimeters in central Inner Mongolia.
Heavy snow on Saturday night blocked major traffic routes in the autonomous region and delayed several flights. Hailar City issued a blizzard alert on Sunday morning. 198 bus routes were suspended.
Meanwhile, in Shandong province, Yantai city suspended all shipping routes to Dalian. More than 16 thousand fishing boats have returned to harbor.
In Jiangsu province, wind-chill has affected most areas. Forecasters say another cold front is sweeping across northern Chian. It will bring heavy snow and blizzards over the next 24 hours.
Beijing is experiencing strong wind and a sharp temperature drop.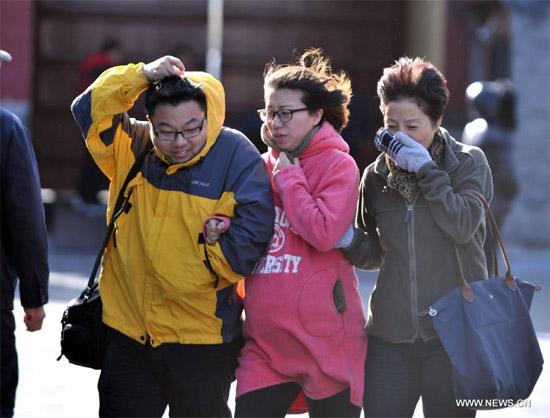 Tourists walk in strong wind at the Tiantan Park in Beijing, capital of China, Nov.
11, 2012. Beijing experienced windy weather and a sharp fall in temperature on
Sunday following a rainfall the previous day. (Xinhua/Li Wen)
Tourists walk in strong wind at the Tiantan Park in Beijing, capital of China, Nov.
11, 2012. Beijing experienced windy weather and a sharp fall in temperature on
Sunday following a rainfall the previous day. (Xinhua/Li Wen)
A citizen is seen fully dressed against the wind at the Tiantan
Park in Beijing, capital of China, Nov. 11, 2012. Beijing
experienced windy weather and a sharp fall in temperature on
Sunday following a rainfall the previous day. (Xinhua/Li Wen)
A woman helps a boy wear windproof boots at the Tiantan Park in Beijing,
capital of China, Nov. 11, 2012. Beijing experienced windy weather and a sharp
fall in temperature on Sunday following a rainfall the previous day.
(Xinhua/Li Wen)
Editor:Zhang Jianfeng |Source: CCTV.com