Watch Video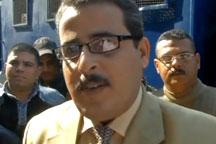 Play Video
Senior judges in Egypt have called for a nationwide strike of all the courts in an attempt to put pressure on President Mohamed Morsi to reverse a package of decrees that place him above judicial and other oversight.
Morsi announced that courts cannot overrule his decrees until a new constitution and parliament is in place. Some lawyers expressed support for the strike, while others opposed it.
Moaz El Baz, Lawyer, said, "I disagree with the Supreme Judicial Council's decision. This is not the way to solve the crisis. Escalation will bring more escalation from the other side. This is not the solution. We, the lawyers, are heavily affected by this decision."
Nashway Esam, Lawyer, said ,"I agree with the Supreme Judicial Council's decision and I agree with the head of the Council. They are defending the state of law and the sovereignty of the law and the separation between authorities. "
The judges join leaders and activists from Egypt's political factions, including some Islamists, who have denounced the decree. Morsi has accused pro-Mubarak elements in the judiciary of blocking political progress.
Last year, courts dissolved the lower house of parliament and the first panel drafting the constitution, both led by Morsi's Muslim Brotherhood. The edicts Morsi issued mean that no judicial body can dissolve the upper house of parliament or the current assembly writing the new constitution, which are also both led by the Brotherhood.
Related stories
Editor:Zheng Limin |Source: CCTV.com