Watch Video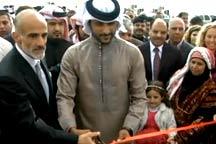 Play Video
The son of Bahrain's king has opened a giant Bahraini-backed school at a Syrian refugee camp in Jordan. UNICEF's representative in Jordan was also present for the opening at the Zaatari camp. A UNICEF representative said the UN children's agency was delighted that progress was being made in educating refugees caught up in the Syrian crisis but more needed to be done.
Dominique Hyde, UNICEF's Representative in Jordan, said, "Right now, we've just opened the Bahraini school, and we are so happy about this. It has room for more than four thousand children, but already we have three thousand five hundred children registered in the school, so we need more schools as soon as possible."
Some parents however have decided to keep their children away from the school. Their biggest wish is to leave the camp, where conditions are harsh, and find better facilities for their families elsewhere. According to Jordanian officials, Jordan hosts more than 230 thousand Syrian refugees. Around forty thousand of those currently live in the Zaatari camp, about 15 kilometres from the border of Syria.
Editor:Zheng Limin |Source: CCTV.com