Watch Video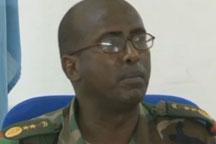 Play Video
Somali security forces have arrested 20 suspected Al Shabaab agents and confiscated an assortment of firearms. The forces broke into a house that was suspected to have been a hideout for the militia. Our correspondent Mohamed Hirmoge reports from Mogadishu.
The youths suspected of having links with Alshabab fighters were arrested in a crackdown in the capital's Yaqshid district. Authorities say the crackdown was aimed at pre-empting possible Alshabab guerrillas attacks in the capital. These arrests follow a series of security operations to rid the capital of the remnants of Alshabab fighters.
Col. Ali Humed, Amisom Spokesperson, said, "Amisom working alongside the Somali security forces have been conducting cordon and search operations to weed out Alshabab. Despite alshabab's withdrawal from major towns they still pose security threats to the public."
African Union peacekeeping force's police wing have been carrying out this operations with the Somali security forces. Alshabab has lost ground to the allied forces of Amisom and the Somali National army and have fled from their strongholds.
The government of Somalia is at pains dealing with guerilla attacks even with the intensified security operations. Just last month a massive crackdown on Alshabab suspects in the capital's hodan district saw the arrest of 300 suspects in a single day. Alshabab however seem undeterred still carrying out suicide explosions and car blasts even within metres of parliament building.
Editor:Lu Jiaying |Source: CCTV.com