Watch Video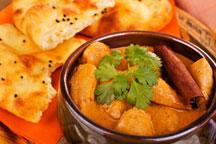 Play Video
By CCTV reporter Li Nan
During the Second "India-China Strategic Economic Dialogue" on Monday, the two countries have called for intensified bilateral cooperation. As economic ties between the two have enhanced in recent years, more and more Indians have come to live and work in China. CCTV reporter Li Nan visits an Indian restaurant in Beijing, and tells the story of how food has brought people from the two countries together.
Gyan came from New Delhi to Beijing six years ago. He now works in an Indian restaurant in the Central Business District. Gyan not only creates authentic Indian flavors for the city's diners, he also introduces them to Indian culture.
Gyan Prakash Sapkota, Manager, Ganges Indian Restaurant, Shimao Branch, said, "They want to know more about the Indian culture, including Bollywood, dancing, and our uniform in India. And they are so interested about our Indian culture and food."
The exotic flavours of Indian food attract a mixed crowd of diners every day. Many among them are local Chinese.
Most of the Chinese diners here have never been to India before, so the Indian cuisine has become their first taste of the country's culture.
Li Bei works in the neighborhood. She's a regular customer at the restaurant.
Li Bei said, "Indians use more yoghurt, mutton, spices and curry in their food. It's so different from Chinese food. But it's the difference that makes the food so fascinating. "
As the two countries increase their economic ties, an increasing number of Indians are coming to China and work in various sectors of the economy, from energy and pharmaceuticals to the restaurant trade. Abnishek works for a fashion retail company in India. He's in Beijing on an exchange programme. He's only been here for 4 months, but he's already settling into life in Beijing.
Abnishek Upadhayaya, said, "I have quite a lot of friends here. Some of them are my colleagues. And also I live in one community, where I met many nice Chinese friends. We all hang out on weekends very often."
As the governments of the two countries enhance bilateral exchange and cooperation, Indian and Chinese people are not only getting to know and understand each other better through work and trade, but through so many other aspects of their rich and varied cultures.
Related stories
Editor:Bai Yang |Source: CCTV.com