Watch Video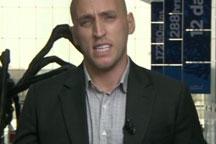 Play Video
This year's UN climate conference is kicking off right now at the Qatar National Convention Centre in Doha. It encompasses the 18th Conference of the Parties (COP18) to the United Nations Framework Convention on Climate Change (UNFCCC) and the 8th Meeting of the parties to the Kyoto Protocol (CMP8). Over the next two weeks, Nearly 200 nations are seeking to extent a flagging UN-led plan to fight climate change into 2013. Full Story>>
For more on the climate meeting, let's cross live to our correspondent Roee Ruttenberg, who is standing by in Doha.
Q1: What's the mood like there in Doha and at the conference right now?
Q2: What are some of the challenges the delegates are facing?
Q3: And we understand a number of accredited activists are also on-hand. What more can you tell us?
Editor:Bai Yang |Source: CCTV.com