Watch Video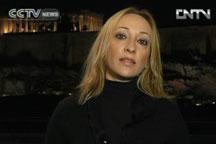 Play Video
Finance ministers from the 17 EU states that use the euro are trying to hammer out a deal, which will prevent the imminent bankruptcy of Greece. Full Story >>
For more on the Greek side of the meeting, we are now joined on the line with our correspondent Filio Kontrafouri, who is now in Athens. Hi, Filio.
Q1: Why is this meeting so crucial for Greece and the Eurozone?
Q2: What is the situation like on the ground in Greece? What are the public expectations of the rescue fund shining some light on the bleak economy?
Related stories
Editor:Zheng Limin |Source: CCTV.com