Watch Video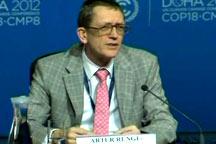 Play Video
The EU says it would be ready to reduce emissions by up to nearly a third, as long as other major economies joined them in making significant pledges.
Artur Runge-Metzger, Negotiator for the EU, said, "We are ready to step up our ambition from 20 to 30 percent if other major economies would also move up to the higher end of their pledges. This offer is still on the table and it will stay on the table even after Doha. But in terms of making the international commitment of 30 percent, that requires a conversation with our partners around the world, in particular with the major economies."
The EU negotiator said however that he did not expect any productive discussion on the matter in Doha. His comments came after the US said it would not pledge steeper cuts in greenhouse gas emissions by 2020. The US has resisted action despite calls by developing countries at the start of the UN conference for tougher measures to avert storms, droughts and rising seas.
Editor:Zheng Limin |Source: CCTV.com