Watch Video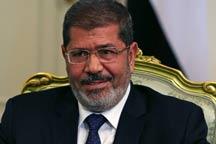 Play Video
Egypt's president Mohamed Morsi has agreed that only decisions related to "sovereign" matters would be protected from judicial review.
According to a government spokesman, the president said he had the utmost respect for the judicial authority and its members. It indicated Morsi had accepted a compromise proposed by the Supreme Judiciary Council to try to defuse the crisis. Tensions have been rising since Morsi declared last week that all presidential decisions would be immune to judicial oversight.
Meanwhile, Egyptian opposition groups say protests in Cairo's Tahrir Square will continue until the President's decree granting him the extra powers is completely reversed. Several thousand mourners marched through central Cairo on Monday for the funeral of Egyptian activist Gaber Saleh on Monday. The teen-aged protester was killed during clashes with police last week.
Opposition groups are preparing for another round of protests on Tuesday. The Muslim Brotherhood had been calling on Morsi's supporters to also take to the streets on the same day. But a spokesman for the Brotherhood said demonstrations would be delayed to avoid sparking any violence.
Related stories
Editor:Zheng Limin |Source: CCTV.com