Watch Video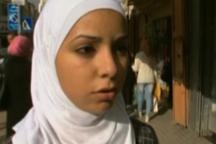 Play Video
By CCTV correspondent Stephanie Freid
Former Palestinian leader Yasser Arafat's remains will be exhumed on Tuesday behind closed doors. As Middle East correspondent Stephanie Freid reports, there are mixed emotions surrounding the investigation to determine if the leader was poisoned.
It seems fitting that the man whose death was shrouded in mystery continues drawing speculation eight years on. Yasser Arafat, revered leader termed "father of the Palestinian people" may have been poisoned to death. A team of international investigators intends to find out. They are taking samples from his remains this week and they will test for traces of radioactive Polonium 210. It's an endeavor Palestinians view with mixed emotion.
Ramallah, Palestinian woman, said, "I think we're very sad. But maybe to know the truth. To find out what happened because they're asking questions, we need to have answers."
She said, "We know in our relgion that it's wrong to open the grave for someone who's dead. Because it's respect for him."
To preserve the former Nobel Peace Prize winner's dignit during the process his mausoleum grave-site has been sealed off to outsiders.
Lab work may take months but Investigators say they've got documents showing Israel poisoned Arafat and they'll press the matter if tests run positive
Tawfik Tirawi, Chief Palestinian Investigator, said, "We will seach for who did it, when we finde that person we'll take him to the hague, if it was an Israeli, and if the responsible person was Palestinian, we'll bring him to justice."
Close friends and colleagues insist this investigation is necessary.
Dr. Nabeel Shaath, Fatah Central Committe, said, "I loved the man. I really believed in him as the man who revived the whole asperations of the Palestinian people to get their rights, to get their homeland, to get their freedom, to get their independence. What he did is only comparable to somebody like Ghandi an Neru later or somebody like Mandela."
Some are saddened by the idea of exhuming Arafat's remains. They say it's not in keeping with Islam. But others maintain: this is the ultimate sign of honor for the Palestinian icon by finally putting to rest questions of how he died.
Editor:Zhang Jingya |Source: CCTV.com