Watch Video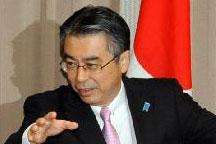 Play Video
Japan and the Democratic People's Republic of Korea are set to hold their next round of talks on December the 5th and 6th in Beijing. The announcement was made by Japan's Chief Cabinet Secretary Osamu Fujimura.
Fujimura said the DPRK will be represented by Song Il Ho, ambassador for talks to normalize relations with Japan. Japan will be represented by Shinsuke Sugiyama, director general of Asian and Oceanian Affairs Bureau at the Foreign Ministry. Japanese Foreign Minister Koichiro Gemba said that with cautious negotiation, his country intends to achieve outcomes in the talks.
The two countries held a two-day meeting in Mongolian capital, Ulan Bator, two weeks ago. An agreement was reached then to continue talks over the deadlock issue of abduction. Abductions in the 1970s and 1980s by the DPRK have been one of the major obstacles between the two countries to establish diplomatic ties.
Related stories
DIV>
Editor:Lu Jiaying |Source: CCTV.com