Watch Video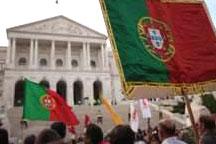 Play Video
Portugal is due to adopt a massively unpopular 2013 budget. It will make unprecedented austerity reforms in a bid to satisfy international creditors helping the country fight off economic collapse.
The new budget aims at 5.3 billion euros in additional savings, achieved in part through further spending cuts but mostly through a tax hike.
Prime Minister Pedro Passos Coelho's centre-right government has a comfortable majority in parliament, virtually guaranteeing the budget will pass. But lawmakers will face anger from many constituents, with a protest outside parliament against "austerity and recession" called by the country's main labour federation.
The Portuguese economy, in recession since 2010, is expected to contract by 3 percent this year and 1 percent in 2013. The country is also facing a 15.8 percent unemployment rate in the third quarter of this year.
Editor:Lu Jiaying |Source: CCTV.com