Watch Video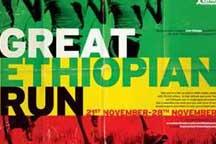 Play Video
By CCTV correspondent Girum Chala
Ethiopia is well known for producing long distance runners, who dominate the competitive international arena. The country also hosts one of the greatest racing events in Africa. The Great Ethiopian Run attracts thousands of athletes every year.
The 10th edition of the great Ethiopian run, a brain child of world famous athlete Haile Gebreselassie was held on Sunday in Addis Abeba. Thirty six thousand people from all walks of life and five hundred elite athletes participated in this exciting race.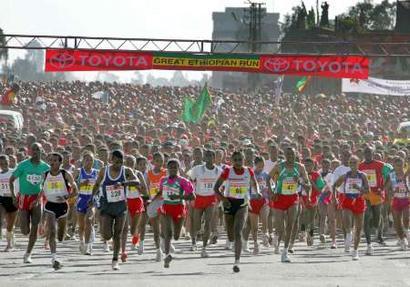 File photo shows the tenth version of Africa's biggest mass road race,
the Great Ethiopian Run.
A Russel participant said, "Thirty six thousand people on the streets, coming together as a community. I mean the atmosphere out there is absolutely incredible. One of, easily, the best road race I have ever done. "
Alganesh Gebregzabhier, participant of the Great Ethiopian Run, said, "It was so beautiful. It is so nice. Everybody is happy here. "
Almost all participants of the event do it for fun, but for those whom running is a career it was a time to set national qualification times as it helps them prepare for international races.
Every year the great Ethiopian run is becoming more interesting and the number of people is also increasing from time to time. This run is a means for many to come together and show friendship and love.
It is undeniable that this Ethiopian race is a leader in the continent when it comes to the number of people participating; the excellent preparations and its consistency. But can it be one of the best in the world? I asked Brenon Foster who is one of the organizers of the great north and South marathons of England.
Brenon Foster, Road Race organizer, said, "This is ten years; eleven years. So it is early in its lifetime. It is getting bigger. It is getting better. It is getting better known. It will become, soon, one of the best, biggest, most successful events in the whole world."
Haile Gebresellassie equally believes that the event is growing by stature, and is happy for the great strides and achievements it has made in developing athletics in Ethiopia over the past decade: "Believe me, we already, you know, achieve a lot. Now we need to do more - to be number one. Well it is easy to be number one. But to keep number one is most important part. We will do it."
The great Ethiopian road race is not only naturing talent but is building a positive image for the country the race which is one of a kind in the region is also becoming an annual festival for Ethiopians and the international community.
Editor:Lu Jiaying |Source: CCTV.com