Watch Video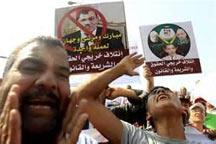 Play Video
In Egypt, protesters in Cairo's Tahrir square have continued to press demands that President Mohamed Morsi's constitutional decree be scrapped. On the square since Friday, demonstrators anticipate a peaceful expression of discontent from all participants.
Mursi's administration says his decree is an effort to speed up reforms and complete a democratic transformation. However, leftists, liberals, socialists and others say it has exposed the autocratic impulses of a man once jailed by Mubarak. A politician from the left says protests will continue until the decree is scrapped, adding that Tahrir would be a model of an Egypt that will not accept a new dictator because it brought down the old one. Liberals and others say their voices are being ignored in that assembly, and many have walked out.
Meanwhile, a counter demonstration organized by the Muslim Brotherhood was postponed.
Related stories
Editor:Zhou Minxi |Source: CCTV.com