Watch Video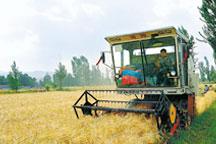 Play Video
By CCTV reporter Wu Lei
During the 18th CPC National Congress earlier this month, the CPC announced its intention to double the per-capita income of 2010 by the year 2020. A particular focal point is how to improve the livelihoods of farmers in the country's rural areas.
Xue Shoucheng, a farmer in Hezui village, Lanzhou, has been growing vegetables since 1996. In former years, the success of a harvest depended mainly on weather conditions, but now thanks to his greenhouse, he can grow many more kinds of vegetables even in the winter. He's even started to grow tropical fruits like papaya. Thanks to improved farming facilities and technology, he's been able to earn more money in recent years. And with the money, he's been able to redecorate his old house.
Xue Shoucheng said, "Last year I earned about 80 thousand yuan, this year I will earn about 120 thousand yuan. The main reason is that I've been able to start growing a wider range of vegetables and fruits with the additional support from the government."
Xue was always the first to try growing new kinds of vegetables and fruits in his village. But to do this, he needed further technical support and training.
Growing vegetables is the major source of income for most local farmers. In order to further improve the quality and quantity of the produce, local government has put more efforts on improving agriculture technology and farming skills in recent years. This training center is a good example.
Since 2010, the local government has invested more than 30 million yuan to build this technology training center and greenhouses used to train farmers to grow a wider variety of vegetables. It's allowed the introduction of, on average, more than 150 new types of vegetables and more than 10 new farming technologies each year.
Wang Jiping, deputy director of Agriculture and Husbandry Bureau, PingGu Dis., said, "With help from the government subsidies, local farmers have been able to grow more vegetables and expand their yield. We've also increased the amount of training on offer. This year we've trained about 16 thousand farmers. With all this additional support, our fresh produce industry has grown faster and farmers' incomes have increased year on year."
Wang also acknowledges that increasing transport costs have put pressure on farmers, but the increase in production and variety has also brought many opportunities. Although land resources are limited, it's hoped improved farming facilities and skills will bring in more profits to famers in the coming years.
Editor:Wang Xiaomei |Source: CCTV.com