Watch Video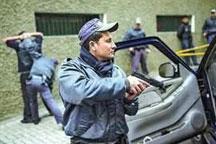 Play Video
By CCTV correspondent Liu Xiaoqian
Brazil's largest city Sao Paulo has experienced a sudden increase in murder cases, nearly 100 police officers were killed this year by local drug gangs. The state government has launched Operation Saturation in a bid to rein in the criminal groups.
The night of Sao Paulo is dyed red with innocent blood. But this time, off-duty cops turn into the target of bullet. The 43 years old Edgard Lavado was shot in front of his house, according to the eyewitness, when he was parking the motorcycle in the garage, he was shot by a man who was following him. He was one of the nearly 100 police officers murdered this year in Sao Paulo.
The sharp increase in murders of police has raised fears of a resurgence of Brazil's biggest criminal gang, the First Command of the Capital or PCC by its Portuguese acronym. Security analysts have characterized the murders as deliberate reprisals by the gang.
In a bid to quell the violence directed by the PCC, Sao Paulo launched Operation Saturation at the end of October. More than 600 KG of drug have been seized, as well as confiscated arms and even the accounts of regional drug trafficking.
Liu Xiaoqian said, "The government sent at least 500 police troops into the biggest shantytown Paraisopolis here in Sao Paulo. Even so, the situation is quite complicated. Lots of innocent people are still being killed. "
A handwriting blacklist with the names and addresses of 40 military police was found during the Operation Saturation in the shantytown. The gang leaders' message came secretly from the jail, the order is to kill two police officers for every criminal killed. More and more local residents are suffering the consequences. According to Sao Paulo government figures, there are 179 homicides in the city in October. The number of victims in the state has jumped to almost 1000 so far this year.
Marcelo Gonzales, Military Police Major of Sao Paulo, said, "A great part of what we've achieved in the operation is related to building up contact between the residents of the shantytown and the military police. The residents directly pass information regarding criminal activity on to us, or contact us through formal channels. "
The gang leaders of the PCC had been transferred to more secure federal prisons, but the end of this bloody wave is still too far to see.
Related stories
Editor:Wang Xiaomei |Source: CCTV.com